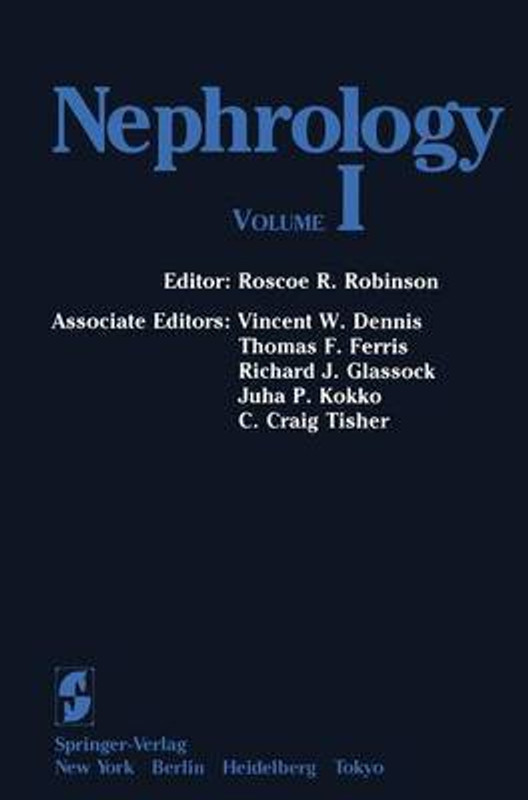 Nephrology(English, Hardcover, unknown)
Discount: 54%
Language: English
Binding: Hardcover
Publisher: Springer-Verlag New York Inc.
Genre: Medical
ISBN: 9780387960722, 0387960724
Pages: 1976
Offers
Extra 5% off* with Axis Bank Buzz Credit Card
Availability: In Stock
V1
Book Details
| | |
| --- | --- |
| Imprint | Springer-Verlag New York Inc. |
Price ₹11298 For many reasons, as President of the International Society of Nephrology, I am happy and honored to write a brief introduction to Nephrology, the Proceedings of the IXth International Congress of Nephrology. One of these reasons is specially treasured: I edited the two books published after our first Congress (Geneva-Evian 1960). The 1984 vintage will certainly be as good as the preceding ones. And, for any nephrologist, whatever his or her field of interest, many observations will be found in the Proceedings that will enhance their personal work. It is characteristic for our Congresses to be the converging point upon which many different orientations join together and form the nephrology that is researched and practiced throughout the world. What could replace a State-of-the-Art lecture delivered by a selected ne phrologist whose work is of the highest quality? At times, even more revealing are those presentations made by non-nephrologists, the basic scientists who bring us fresh data and new concepts far removed from the reader's daily world. But attending such a lecture is never enough. Their texts should be read and reread. Symposia and workshops, as sources of precise and up dated knowledge espoused by experts, are often heart-breaking as they shake established dogma. Therefore, they should be neither neglected nor forgotten but scrutinized carefully. The evidence which could eventually lead to new concepts or hypotheses has to be weighed accurately and then either rejected, discarded temporarily, or accepted, even if the latter implies dramatic change."